הנה תמונות ממוספרות. האתגר הוא לכתוב מי הם השחקנים בתמונות מבלי להסתכל ברוסטרים של הקבוצות ולדעת לפי מספרי הגופיות. אבקש מכל גולש להזין את השחקנים רק בתמונה אחת כדי שגם לאחרים יהיה צ'אנס. בתגובות נא 
hil Jackson made his first major move as president of the New York Knicks, firing coach Mike Woodson on Monday. Now, Jackson gets to wield his influence and hire a new coach.
From the day Jackson joined the Knicks in mid-March, Steve Kerr has been linked to the coaching job. If Kerr wants the position — which it seems like he does — all signs point to him being the man Jackson hires, sooner rather than later.
"Obviously my name is being thrown around," Kerr said Monday on his weekly SiriusXM NBA Radio show. "I do anticipate at least being part of the conversation, and we'll see where it all goes."
The writing on the wall has shifted over to the NBA's official transaction log: Mike Woodson has been relieved of his coaching duties by the New York Knicks and new team president Phil Jackson.
The league's worst-kept secret is finally part of the public record. TheKnicks' official Twitter account shared the news that Woodson and his coaching staff were given their walking papers Monday:
The news carried as much shock value in the basketball world asStephen Curry converting a triple. Woodson wasn't one of Jackson's guys, and nothing—not an eight-game winning streak in the month of March or a 5-2 record in April—could change that fact.
Jackson, a first-time executive facing $60 million expectations, needs one of his own. Few, if any, fit that description better than current TNT broadcaster—and former Jackson pupil—Steve Kerr.
Kerr is well-versed in the Zen Master's philosophies. More than the famed triangle offense that propelled both to the championship podium, Kerr has also reaped the rewards of Jackson's team-building exercises. If players need more convincing than Jackson's jewelry chest can provide, Kerr has one of his own to bring to the table.
There's a method to this madness and tangible proof of its existence.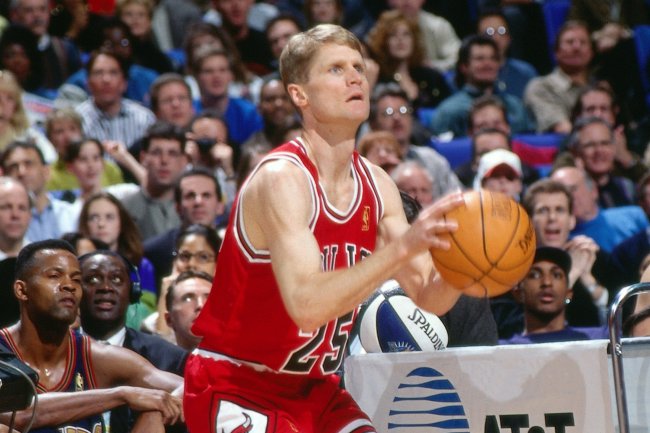 Andrew D. Bernstein/Getty Images
Jackson, a coaching guru in every aspect of the title, has never held this position before. The challenges he'll encounter in the Big Apple (cash-strapped financial books, draft debts to pay off, Carmelo Anthony's uncertain future and the scrutinous watch of team owner James Dolan) are perhaps unlike any facing his executive peers.
There isn't a more important link in building a franchise than that connecting a president with his coach. With a long road to relevance facing the Knicks, that bond becomes even more critical.
Jackson's circle of trust is no bigger than Jack Byrnes'. His coaching tree is more like a branch, with a few withered leaves (Kurt Rambis, JimCleamons, Bill Cartwright, Frank Hamblen) and one yet to sprout (Brian Shaw).
Kerr isn't yet a part of that tree, but he does have experience in the executive suite. He spent three seasons as general manager of thePhoenix Suns (2007-10), a stretch culminated by the team's run to the 2010 Western Conference Finals.
It's getting harder to buy into the theory that experience is a necessary resume piece for NBA head coaches. Jason Kidd, Mark Jackson and Doc Rivers have all found their way without first paying their dues in the college or assistant ranks.
Besides, Kerr's on-the-job training might actually be an advantage with this veteran-laden roster.
"No coaching experience? No problem," Bleacher Report's Jim Cavanwrote. "Assuming the Knicks hold fast to their current core of Carmelo Anthony, Amar'e Stoudemire—whom Kerr knows well from his time in Phoenix—and Tyson Chandler, having a skipper willing to take alaissez-faire approach could be the way to go."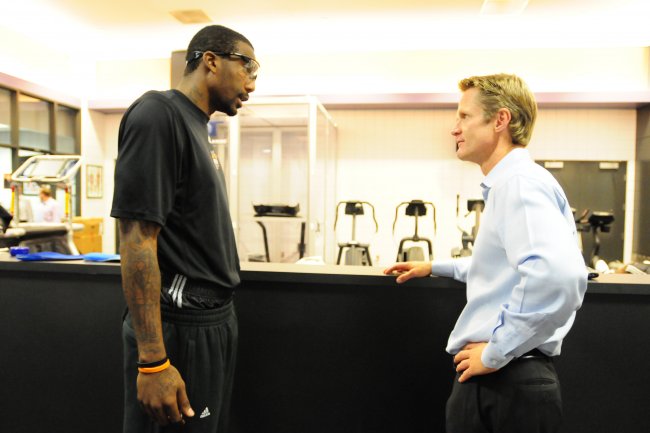 Barry Gossage/Getty Images
Kerr has yet to discuss the position with his former coach and longtime friend, but he said he feels that time could be coming soon, via ESPN's J.A. Adande:
He's also hidden his desire to coach about as well as New York masked Woodson's fate, per ESPN New York's Ian Begley:
If Kerr is waiting for the right opportunity to knock, he might want to seize what's in front of him before it pulls his door of its hinges.
It's hard to think of many jobs more enjoyable than getting paid to analyze NBA games, but this might be one of the exceptions.
The Knicks aren't going to pinch pennies to bring him on board if Jackson tabs him as the right man for the position. If the team's astronomical payroll didn't make that clear enough, then the Zen Master's $12 million salary hammered that point home.
Certainly, it takes more than money to make a dream job. Cash, however, isn't New York's only trump card.
"As for the circumstances, executing Jackson's vision on the bench — just as he did on the floor as a player for three of Jackson's championship teams in Chicago — would seem to be pretty ideal," CBS Sports' Ken Berger noted.
Not to mention, the roster—assuming Anthony re-signs—has far more talent than the team's 37-45 record would indicate. If Anthony returns, the Knicks will have seven players from last season's 54-win team.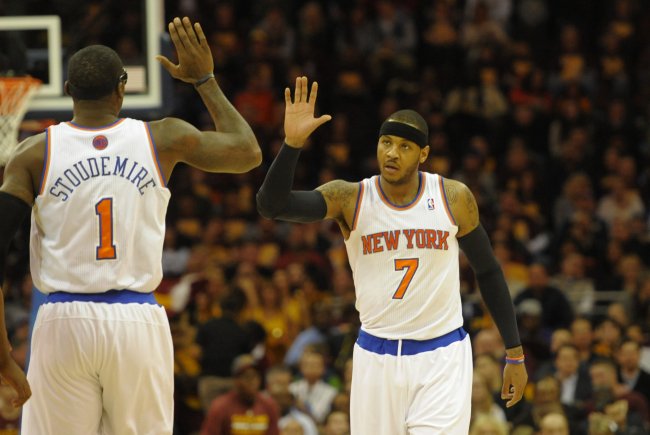 USA TODAY Sports
Now, is this the perfect coaching job? Of course not, it's the Knicks. Perfection might often be the expectation, but rarely is it the reality.
The stain of Dolan's fingerprints have reportedly already caught Kerr's eyes. "What concerns Kerr, according to a source, is whether he can be successful at Madison Square Garden, a place that has destroyed careers and ruined reputations under Garden chairman James Dolan," Frank Isola of the New York Daily News wrote.
But for now, at least, it sounds like Dolan is ready to embrace the shadows he should have been living in long ago, per Tim Reynolds of The Associated Press:
Working under a legend like Jackson has some inherent drawbacks of its own.
"New York is famous for chants, and you know you'll hear 'We want Phil' in the Garden after they lose four in a row," a league official toldESPN New York's Ian O'Connor. "If the head coach is Steve Kerr or someone else, he'll have to be strong and understand that something like that is going to happen."
This wouldn't be the first time Kerr has worked under pressure, of course. He made a career out of taking and making big-time shots.
Besides, Jackson can do a lot to deflect that heat. Kerr would be his guy, not the guy a franchise chose over him (see: D'Antoni, Mike). By publicly supporting Kerr—or even just formally closing his coaching door—Jackson could quiet those chants to a whisper.
Now, the Knicks aren't the only egg in Kerr's basket. He's "eyeing several potential openings around the league," sources told Bleacher Report's Howard Beck, and "would prefer to stay on (or near) the West Coast."
That sounds well and good, but where will he find this West Coast gig?
There are some parallels between the current states of the Knicks and the Los Angeles Lakers, but one spot has Jackson, and the other does not. The Utah Jazz are moving on from Tyrone Corbin, the team'sofficial Twitter account reported, but they're worlds away from contention.
Portland Trail Blazers coach Terry Stotts is working on the final year of his deal, but his team just piled up 54 wins in the regular season. TheGolden State Warriors might be growing tired of Mark Jackson, but he's now guided the franchise to back-to-back playoff berths for the first time in two decades.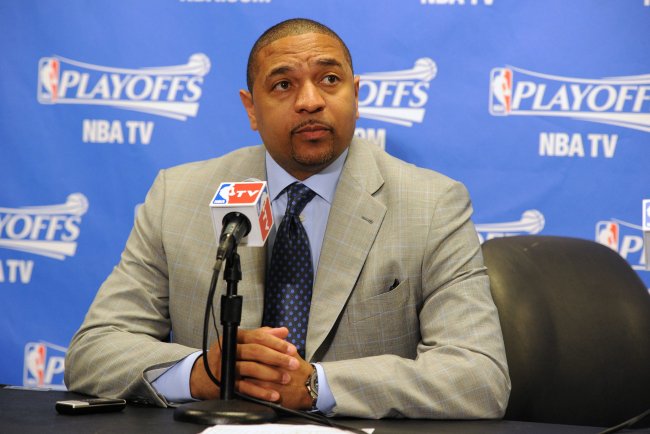 Andrew D. Bernstein/Getty Images
Maybe these are serious hangups for Kerr, or perhaps they're just conveniently placed roadblocks.
"If I had to guess, the Knicks and Kerr are just trying to create the illusion of uncertainty," NBC Sports' Dan Feldman wrote. "One, it gives the appearance the Knicks are being thorough in their search. Two, it protects Kerr from criticism for being hastily hired or getting the job due to his relationship with Jackson."
Jackson won't find a more desirable name in his inner circle than Kerr, and the latter won't find a better boss than the former.
These aren't smoke screens, there's a fire burning in the Big Apple. As predictable as Woodson's dismissal was, expect more of the same when it comes to this coaching search.
****************
S ANGELES — There was a time when the notion of Blake Griffin being able to do it alone was, well, comical.
His rookie season was evidence of that much. The Los Angeles Clippers star was widely received as one of the most electric talents the NBA had seen in quite some time, a human elevator who would burst through the ceilings of arenas the league over and come down on the heads of defenders whose athletic ability couldn't compare. And … the Clippers went 32-50 in that 2010-11 campaign, improving a grand total of three games from the season before he took the floor.
GAME 2: Clippers roll to even series 1-1
PLAYOFFS: First-round schedule, TV info
They had waited a whole year for this, through the fractured left knee suffered in his first preseason and the surgery that wiped out the debut campaign of the former Oklahoma star. The endless highlights that followed were fun, all those dunks where he just kept rising like a balloon and made the Clippers fans who had such low expectations swoon. But the group — the only thing that matters when it comes to building a champion — was hardly any better with him finally in the fold.
Chris Paul was the one who took this program to the next level when he arrived in Griffin's second season. Paul was the MVP candidate, the relentless competitor with the versatile game that is always a prerequisite to true relevance.
All of which made Monday night so fascinating.
As Paul sat with Griffin at the postgame podium, the team's two MVP-caliber players discussing a 138-98 Game 2 rout of the Golden State Warriors that was as good as bounce-back playoff wins get, the point guard was asked about his teammate who had avoided the foul trouble that plagued him in a Game 1 loss and turned in a dynamic 35-point night.
"Yeah, it looked like he didn't need me," Paul said with a smile.
GALLERY: Top shots from Clippers-Warriors series
********************
he Case Against Mark Jackson (Warriors 98, Clippers 138)
Mark Jackson had 82 games this season to figure out how to handle opponents rushing double teams at Stephen Curry.  He had night after night to evaluate the efficacy of isolation plays for David Lee and Harrison Barnes, and of hockey-substituting with 4 or 5 reserves on the court at the same time.  Jackson had 15 games without Andrew Bogut to find a way to compensate for the big man's absence.  He had 42 opportunities to study the finer points of Jordan Crawford's game.  Overall, he had nearly six months to learn how to prepare his team to focus on the details and not to take opponents lightly.  You never would have guessed any of it by watching the Clippers' 138-98 denaturation of Jackson's Warriors team.
Forget not knowing the answer.  For the stretches of Monday night's game in which the Clippers were actually trying — roughly the first 26 minutes — it looked as if the Warriors didn't even understand the fundamental questions being posed by Doc Rivers' attack.  Why did Jackson repeatedly run Stephen Curry into double teams that trapped him in the corners play after play after play?  Why does the one line-up that could play to the Warriors' strengths and minimize their weakness — Draymond Green as a stretch 4 with 4 other starters — get a grand total of 4 minutes of court time (during which the Warriors happened to be +7, as opposed to the -47 logged by line-ups for the other 44 minutes)?  If Curry is denied shots by bringing the ball up, why doesn't Jackson use the veteran point guard the GM acquired for him at the trade deadline next to Curry to see if the Warriors' superstar can get anything going off the ball (30 seconds of Curry/Blake overlap in Game 2).  Why did Jackson run an all-reserve or 4-reserve line-up for 6 crucial minutes to end the first and start the second, but play Curry and Iguodala — his two most fragile starters — for the entire third quarter while down 30+ points?
The rant of rhetorical questions can go on and on (if you can't rant after a 40-point playoff loss, when can you?), but there's a unifying problem that may decide the Warriors' fate in this series.  Jackson has yet to find a way to adapt to what the Clippers are throwing at him, and simply running the same old sets and substitutions that got him his much-vaunted 51 wins doesn't look like it's going to get him many more.  The Warriors cracked open Game 1 when Chris Paul went to the bench, freeing Curry from his oppressive double team.  No such luck in Game 2.  Curry had a disastrous 1-6 first half as the Clippers absolutely smothered him with a guard and a big man on every possession.  While Curry did have a big third quarter, it was only after the Clippers had cemented a 30+ point lead and pulled off the double-team, allowing Curry to turn the corner and get to the basket.  In a Popovichean twist, it was as if Rivers was toying with Curry — letting him have his points, while the Clippers kept the lead at a number roughly around my age.
I can easily accept that the Warriors should have problems containing Blake Griffin.  Andrew Bogut is injured, no one claims that David Lee is a defensive player and Jermaine O'Neal is closer in age to Rivers — with whom he jawed following a rough series — than the men he's assigned to guard.  I get that the Clippers' All-Star big man may score on the Warriors at will and — short of sending him to the bench with fouls or more Draymond Green heroics — there is little the Warriors can do about it.  But I don't understand why the Warriors struggle so much offensively given the firepower on the roster, including what Jackson famously labeled last year the "best shooting backcourt" in basketball.  Klay Thompson was in foul trouble for much of the first, but the Warriors gave up their biggest runs — 15-4 to start the game and 12-3 at the start of the second — when he was on the court.  Iguodala could only muster 4 points in 29 minutes.  To have so many offensively capable players, the Warriors often struggle to even initiate basic halfcourt sets.  What little innovation we saw in Game 1 was the product of Hilton Armstrong improvisation (according to Iguodala), not coaching-staff adaptation.  The Warriors turn the ball over too much (26 times in Game 2) not only because of defensive pressure, but because of unforced errors in their awkward offensive sets.  All of these offensive problems were present in the earliest weeks of preseason.  With the exception of brief stretches of beautiful ball movement, they are problems that have reoccured all season.  This is who the Warriors are, and that's a major problem given the offensive talent packed into this roster.
The series against the Clippers is not over, but whatever momentum the Warriors had hoped to carry out of Game 1 has been lost.  The Game 2 loss was so horrific that it took the shine off the better aspects of Game 1.  The team's ability to hold the Clippers under their season average in points just looks like a spinoff of Griffin's aberrantly low minute count.  Whatever offensive success the team enjoyed in the third quarter of Game 1 now seems fleeting, dwarfed by Warriors' stagnant and sloppy play by which they dug their hole early and nearly lost their lead late in Game 1.  Game 2′s first quarter was dominated by those same mistakes, with no indication that the Warriors have an effective plan B.  Jackson's team currently appears incapable of taking active steps to open up  the ball movement on which they thrive.  It just appears when the Clippers loosen the clamps of their defense — whether by necessity (when Paul goes to the bench) or design (when they ease off double teams given a massive lead).  The Warriors are taking what the Clippers' defensive gives them, and that's not much.
Putting aside Xs and Os, if anything can inspire greater intensity and focus among the Warriors for Game 3, it will be this deeply embarrassing loss.  But a bounce-back game won't explain away why the team lacked those qualities in what they knew would be a tremendously hard-fought game by a desperate Clippers' squad.  Mark Jackson, even among his critics, is hailed as a master motivator who excels at unifying his team.  In Game 1, they purportedly battled for a win on behalf of their leader.  In Game 2, the Warriors remained unified — this time, in a state of listless disarray.